Ben (now 20) was born on 3rd March 2001. The day of his diagnosis is etched in our memory. We'd gone to have a test at the hospital, and despite a slight worry we went away thinking it was nothing. We were carefree. Rachel was 3 months pregnant and we were doing ok in life. Over the next few days our world fell apart. Along with most other parents we had never heard of muscular dystrophy, let alone Duchenne.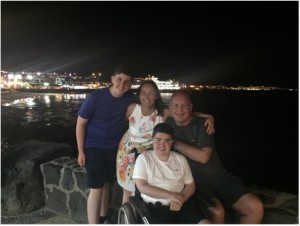 We were told, like all parents of a child with Duchenne, that our son would be in a wheelchair by the age of 11, we were told that life expectancy was early 20's and most devastating of all we were told there was no cure. We were told that Duchenne eventually affects all the muscles in the body, including the heart and lungs. We staggered through the next few months and then, like many others in the same position, life became almost normal again but with an underlying sense of sadness. Over the years we became involved with fundraising. We had to do something. The Great North Run became an annual event for friends and family, and Charity Balls raised tens of thousands.
After taking part in a drug trial Ben has been 'lucky' enough to be on Translarna since 2008. He walked until he was 17½, but after breaks of both his left femur in November 2018 and his right femur in July 2020 he is now dependent on his wheelchair to get around. In some ways this has meant that he can get around more. He certainly feels more able to go to out in our local area and he is starting to see more possibilities in terms of his access to life.
Of course, this has not been an easy journey and Ben has many issues to overcome. Ben has severe learning needs and access to appropriate education and opportunities has not been easy. Being reliant on a powerchair presents many barriers: accessing buildings is a challenge, access to appropriate toileting and care provision is an issue, accessing essential equipment can be a fight. Over the years, we have had several battles to ensure that Ben has opportunities. We have encountered 'accessible` toilets that his wheelchair won't fit into. We have been offered substandard equipment that does not meet his needs. We have had to raise thousands for a wheelchair that allows him to access the life he wants. This should not be the case.