Duchenne UK news
Duchenne Awareness UK WDAD Interview with Duchenne UK's co-founders
7th September 2019
To mark World Duchenne Awareness Day 2019, Duchenne Awareness UK shared an interview with our co-founders Alex and Emily:
In 2012 Alex Johnson and her husband set up Joining Jack, whilst Emily Crossley and her husband set up the Duchenne Children's Trust. In May 2016, after co-funding several projects together, Emily and Alex came together to form Duchenne UK. Alex also still runs Joining Jack. We caught up with them for a chat.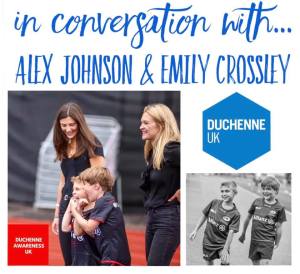 You both started charities after your sons were diagnosed with Duchenne. What made you decide to start your own rather than support an existing charity?
We looked at the whole charity landscape and met with all the charities. We didn't feel that there was enough focus on funding transitional research. One thing we both felt strongly about was helping bridge 'the valley of death', the notorious time period in drug development where promising treatments languish in laboratories because researchers struggle to attract investment to get their research out of the laboratory and into early stage clinical trials. We wanted to provide the investment that would create the bridge over that valley – and help bring promising treatments into the clinic. Our investments in Solid Biosciences, Reveragen and the development of Tamoxifen are all examples of this. It's incredible to see how we helped get these potential therapies in to trials that are now being tested in Duchenne patients. But ultimately, we wanted to have the choice of where and how the money we raised was spent. Transparency is key. We want to make sure every single penny our incredible supporters raise is spent efficiently and on the most hopeful projects. This is why we allow our family funds to allocate 100% of their funding to the projects they want to fund. And why 90p in every £1 raised goes towards accelerating research.
Our biggest piece of advice to anyone we speak to, is that if you are fundraising for a charity make sure you ask lots of questions and do your own research into how they are spending your money.
Did you have any worries about starting a charity?
Alex – Yes, I am not going to lie there is a lot of pressure. We work long unconventional hours, and I have spoken before about the difficulties in trying to get the right balance between my work for the different charities I am involved in and my home life. At times, it is all consuming, finding the balance is painfully hard. I always think, without my son, Jack, my life would lose all meaning, but what if I can't save him and I have to live with the fact that I spent so much time away from him because I was so focused on doing just that? It terrifies me. We have a small charity team of amazing staff, and our patient advisory board help and support us with our work, without them it would be impossible for us to do what we do. They do help ease the pressure.
Emily – Being the parent of a child with a devastating and life-limiting illness is at first an unbelievably lonely, dark and frightening place. Both Alex and I set up our charities when we were right in the middle of diagnosis – which is a terrifying time. After setting up the charity I often had days of feeling completely swamped and overwhelmed. However, having friends to share in the fight with you is the most important thing, and we are lucky to be surrounded by incredible and supportive people who are all working together.
At one point did you know the charity was a success?
Alex – It depends what success looks like to you. It's quite a personal thing. Ultimately success to me will be every person living with Duchenne having access to an effective treatment to slow the progression of the disease and being able to live a good quality of life. We aren't there yet but we are taking steps in the right direction. It was very frustrating for us when, in 2015, we learnt that clinical trials were being turned away from the UK because of the lack of capacity to run the trials. We created the DMD HUB with the mission of giving every person living with Duchenne the opportunity to take part in clinical trials. Since the DMD Hubs launch, we have invested £1.79 million, and more than 200 patients have been able to get on to clinical trials. There's no feeling quite like it when you get a message out of blue from a parent thanking you for helping create the opportunity for their child to get onto a trial. You can feel the hope you have given them and it's something quite special. It makes all the sacrifices we make worthwhile.
Emily – I agree with Alex. I will only truly believe that the charity has been a success when we have approved and reimbursed treatments for all patients with DMD. However, there have been moments along the way where I have been able to see the impact we're having. For instance, when the government responded to a campaign that Alex and I were part of to change the law to introduce the Early Access to Medicines scheme that some DMD patients are now benefitting from. Hearing that the first boy had been dosed in the Tamoxifen trial was a big moment. We've invested more than £1.5million into that trial and went to the Europeans Medicines Agency for Scientific Advice on the trial – so that felt like a big leap forward. And when Duchenne UK and our industry partners were awarded the Eurordis Black Pearl Award for Project Hercules.
Alex, Joining Jack has strong sporting links, can you tell us about the charities involvement in the sporting industry?
I am lucky that my husband, Andy, played professional rugby league for 13 years. The sporting community is a very special one. They really do look after each other. They are very driven and proactive people. Andy's ex-teammates were devastated to learn about Jack's diagnosis. They could see the impact it was having on our whole family and wanted to help us in any way they could. I don't think we will ever be able to thank them enough for becoming ambassadors for Joining Jack and going above and beyond to help us raise international awareness and funds for Duchenne. Without them it would have been impossible for us to achieve everything we have to date.
In 2016 you joined together to become Duchenne UK, what were the reasons behind that decision?
Joining Jack and the Duchenne Children's Trust came together in 2016 to form Duchenne UK. The two charities worked very closely together; campaigning for earlier access to medicines, investing in research together and co-ordinating large numbers of charitable organisations and families to fund clinical trial posts. By becoming Duchenne UK we cemented an already strong and dynamic relationship into one organisation. Together, with the strength of both the charities communities, we are able to work more efficiently to change the future for everyone living with Duchenne muscular dystrophy.
One of your main fundraising events is the Duchenne Dash, can you tell us about the event and how it started?
The Duchenne Dash started 7 years ago, when our wonderful patron, Krishnan Guru-Murthy and a small group of friends cycled from London to Paris. It has grown to become our biggest and most challenging event of the year, for the last three years we have managed to raised more than £1million, and in total the event has raised more than £4.5 million.
Alex, Andy and many other amazing parents in the Duchenne community took part this year, and it was the toughest year yet with a lot of rain and wind. As we got off the ferry in France, the heavens opened! But we had just found out that we had hit the million pound mark so that really helped people keep going.
Since the launch of Duchenne UK, what do you feel has been your biggest achievement?
Our aim has always been to get treatments to THIS generation of patients, so we are very proud of our work bringing potential treatments such as Tamoxifen and gene therapy to patients, and through the DMD Hub ensuring the UK is able to run all promising research trials.
Our proudest achievements include: funding early work on gene therapy, funding and providing regulatory guidance for the team working on the Tamoxifen trial, seeing a new outcome measure that we funded being validated by the EMA, seeking alternative delivery systems for gene therapy and seeing a change in the law that we lobbied for, to allow patients Early Access to Medicines.
Earlier this year we won the very prestigious EURORDIS Black Pearl Award for Patient Engagement for Project HERCULES. Reimbursement is incredibly complicated and we are proud to have set up this truly ground-breaking and innovative project. Our next challenge with this is educating the community so they can help us lobby MPs and government bodies.
Alex, you've mentioned previously the lack of support you felt when Jack was first diagnosed with Duchenne. What is Duchenne UK doing to support families who receive a Duchenne diagnosis?
We want to ensure all families diagnosed with DMD can access accurate information, there is so much out there that is misleading. So we have a number of different ways we support families. We created the DMD Family Folder and we are working on the second version for adolescents and young adults.
We hold free patient information days for patients to come and learn about research, care and education in a welcoming and relaxed environment.
We listened to families who said they were struggling to find information on how to get involved with research, so we have the clinical trial finder on the DMD HUB website, and also lots of advice for patients and parents to consider before joining a trial. The main Duchenne UK website is also full of information on all the research we are funding and advice on coping and living with the DMD diagnosis. We offer free copies of Janet Hoskin's book to families and teachers working with DMD patients.
We have helped 117 families get education support through our £80,000 grant to Decipha. Our incredible Patient Advisory Board provide a support system so any newly diagnosed family, or any family in the community, that contacts us can be put in touch with our network so they feel totally supported and have people to go to for advice on all the things Duchenne has an impact on. We also have more work to do on the implementation of Standards of Care and helping parents access the best care for their child.
Duchenne UK is a major funder of scientific and clinical research, how much has Duchenne UK invested in research?
We have now spent more than £8m on research, and have committed a further £6m. We are extremely grateful to the community, without their support and fundraising, we would not be in the position we are in today, BUT we need to raise more funds to keep funding promising research.
What's next for Duchenne UK?
Bringing gene therapy trials to the UK is a priority for us. We are working closely with clinicians and pharmaceutical companies to make this happen and have a meeting planned for November to bring everyone together. We have more work to do on Project HERCULES to make sure treatments can get reimbursed so that patients can access them as quickly as possible. We must keep ensuring we achieve the DMD HUB's mission to bring research opportunities to everyone living with Duchenne. And finally we are motivated to get up every day for ALL of our children, to seek out and fund new treatment approaches and accelerate the pace of research wherever and however we can.
---
NOTES FOR EDITORS
What is Duchenne Muscular Dystrophy?
Duchenne muscular dystrophy (DMD) is the most common fatal genetic disease diagnosed in childhood. Children born with DMD cannot produce the protein dystrophin which is vital for muscle strength and function. Muscle weakness starts in early childhood. Many use a wheelchair by around the age of 12. As deterioration continues it leads to paralysis and early death, often in their 20s. It almost exclusively affects boys. There is no treatment or cure. In the UK there are around 2,500 boys affected and around 300, 000 worldwide. It is classified as a rare disease.
Who are Duchenne UK?
Duchenne UK is a lean, ambitious and highly focused charity with a clear vision: to fund and accelerate treatments and a cure for Duchenne muscular dystrophy.
We are investing millions of pounds in research right now to bring treatments and a cure to help this generation. Duchenne UK is the largest funder of DMD research in the UK. We are also committed to accelerating the pace of research. 90p in every £1 raised is committed to research.
Our president is HRH The Duchess of Cornwall. Our patrons include the broadcasters Krishnan Guru-Murthy and Mary Nightingale, and the sports stars Owen Farrell, Kris Radlinski and Andy Farrell. 
We need your help, because we need to keep funding promising new research.
How to donate?
Duchenne UK is entirely reliant on donations to fund research for treatments and a cure to DMD. This can be done via:
Direct Debit – Duchenne Direct
Individual Donation – Donate
If you are a family or friend affected by DMD you can set up your own fund with Duchenne UK – Family and Friend Funds
Take part in one of our fundraising events – Events

Text

 DUCHENNE to 70085 to 

donate

 £5. This costs £5 plus a std rate msg.
For more information visit www.duchenneuk.org
Note for editors
The default notes for editors here.