Family and Friends Funds
Helping Hayden
Hello there!
We are the Howell family – Kevin, Dawn, Ellie and Hayden.
We had final confirmation of Hayden's Duchenne diagnosis on 14th February 2012, when he was three years old. The story as to how he was diagnosed will be familiar to most Duchenne parents:
Very late meeting major milestones
A slightly odd gait when he did walk
High CK level in blood tests
Final genetic confirmation of Duchenne on 14/2/12
Hayden's mutation is a little unusual. The exons affected in his mutation are 9 & 10, and they're duplicated, not deleted. This sadly makes him unsuitable for all of the exon skipping style drugs that are currently being developed. We are therefore always on the lookout for treatments that are not mutation specific, and always with one eye on the clock.
However, we have hope. Non-specific drugs such as Givinostat, and the ongoing research into repurposed drugs such as Tamoxifen, give us some hope, and although we have now learnt not to lean too heavily on the clinical trials stick, we are nonetheless optimistic. We will find a cure!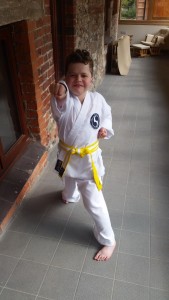 Hayden himself, despite being fully aware of the prognosis, is a fun loving bubbly chap who lives life to the full! He rides, he does Karate, he swims, he loves reading, has a wicked sense of humour, and he's a devoted member of his local Scout group.
We want and need to do all we can to help wipe Duchenne off the face of the Earth.
Our fundraising over the years has taken on many forms – Bake Offs, music festivals, quizzes, coffee mornings, the London Marathon, and wooden reindeer making to name but a few!
Finally I would like to thank Duchenne UK, for giving us the opportunity to create our own family fund, we are looking forward to working with you, and our wonderful family and friends for your ongoing love and support. Thank you.
Please support us by donating through our Just Giving page.