Personal stories
DMD won't stop me! How young people with Duchenne muscular dystrophy can get involved in sport
Duchenne muscular dystrophy (DMD) should not stop children and young people from enjoying sport and other activities, but it can be disheartening when they can no longer keep up with their friends on the football pitch.
Staying active and being part of a team can have huge benefits for young people's mental and physical health. If you or your child would like to get involved in sport but are unsure of what they could do, these examples from the DMD community could inspire you:
Stanley, age 10, powerchair football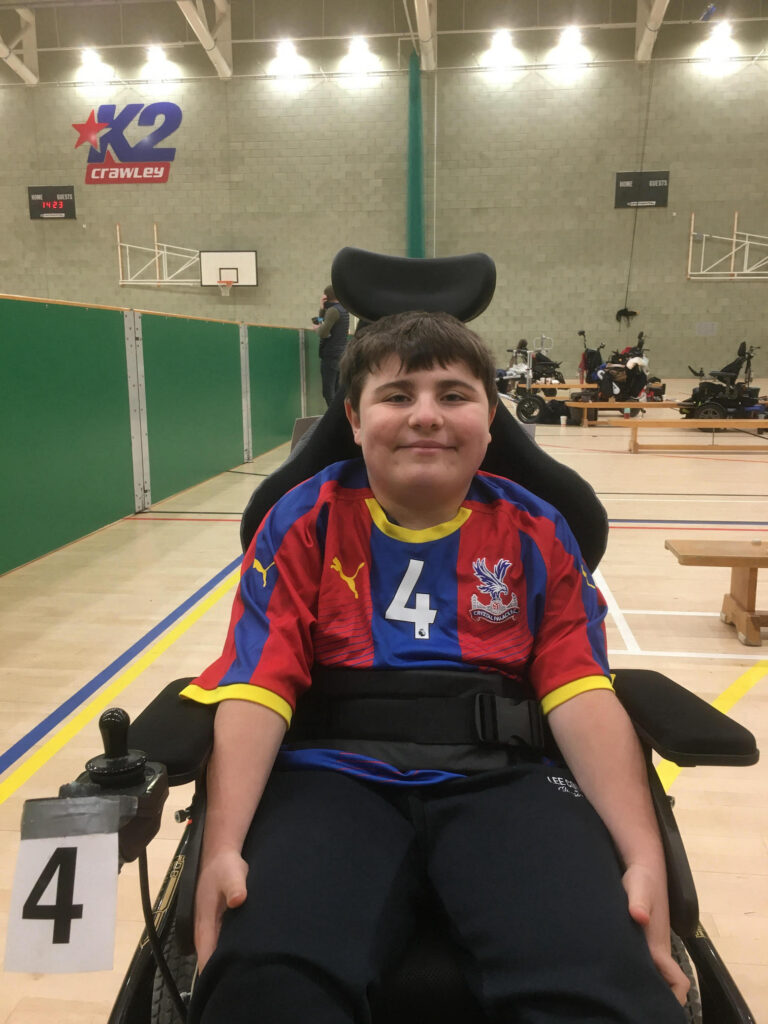 Stan recently started playing powerchair football for Crystal Palace Powerchair FC and is now enjoying time away from his computer and the chance to be part of a team.
Powerchair football is a fast-moving indoor game played in a four-a-side format. It offers people who rely on electric wheelchairs access to the game of football. The unique nature of powerchair football allows all ages, disabilities and genders to compete together.
Getting involved in powerchair football has been truly transformational for Stan.
"I have seen a huge change in our son's personality and belief since he started playing powerchair football. Beforehand it was all pretty much doom and gloom but now his world has opened up with other possibilities he never dreamt of, and this has really changed his mindset. And for the first time in his life he has a goal – to play for England. This belief, want and interest has really changed him for the better." Rob, Stan's dad.
Adam McEvoy, who coaches Stan and is National Development Manager for the Wheelchair Football Association, is keen to encourage others to get involved:
"The benefits of getting involved in powerchair football are vast. It is fast paced, exciting to watch and fun to play in.
Powerchair football provides players with the opportunity to develop transferable life skills, such as teamwork and communication. It also acts as a great mental health tool, enabling participants to be physically and mentally active
It provides excellent opportunities to make new friends, connect with others and socialise with people the 'same as them'. It is also a great social outlet for parents and family members, providing respite and the chance to build connections with similar life experiences and challenges.
For getting involved in powerchair football, my advice would be to simply come along and give it a go, if you like it, it will open a new world of opportunities. Individuals/families can visit our website to find out club list and more about the game, or they can contact us directly for more support – we're here to help."
Shiv, age 11, powerchair football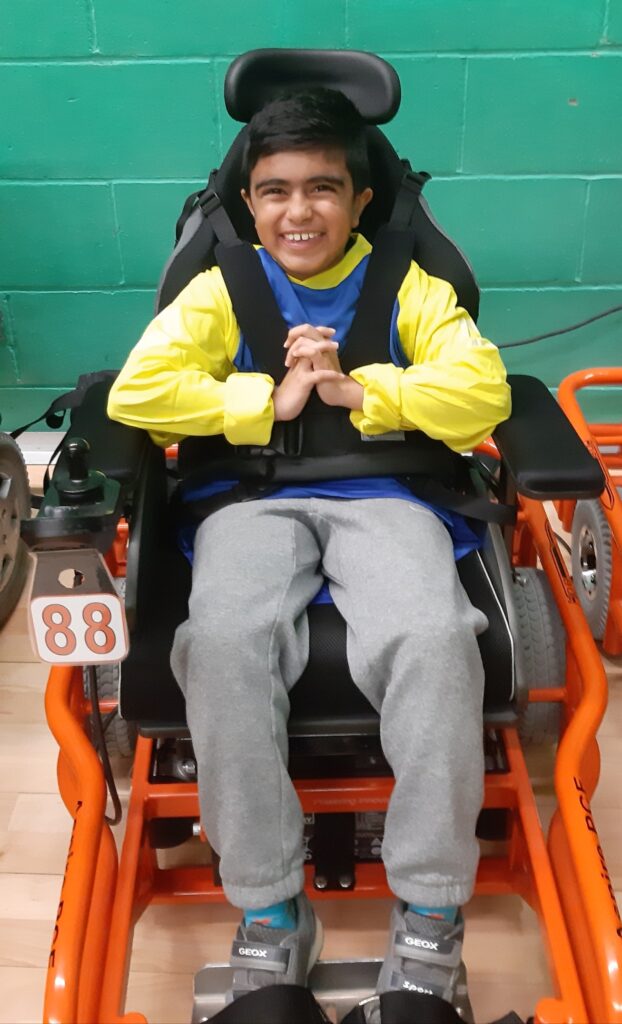 11-year-old Shiv is passionate about all things football. Thanks to his dad Manoj, he is a huge Liverpool FC fan and attends as many games as he can!
However, living with DMD meant that playing football himself felt out of reach. However, another Duchenne family recommended powerchair football in 2019:
"They asked us to come and check it out at a club called Aspire Powerchair Sports Club. Needless to say, Shiv was hooked from the first day. He was finally able to say that he too plays football and at every training day, he had a huge smile on his face.
Shiv attended training every week and it meant that he was on a level playing field with all the others that played the sport. Soon, Shiv was chosen to play for the Aspire Lions team – the development team at the club.
Being involved in a disability sport, especially one that he is so passionate about, has meant that Shiv has grown in confidence and is able to compete at a high standard but also it has meant he has been able to meet other like-minded people and people he can relate to.
His passion for playing the beautiful game came true. He dreams of one day also playing for England!" Manoj, Shiv's dad
Owen, age 7, archery, curling
and boccia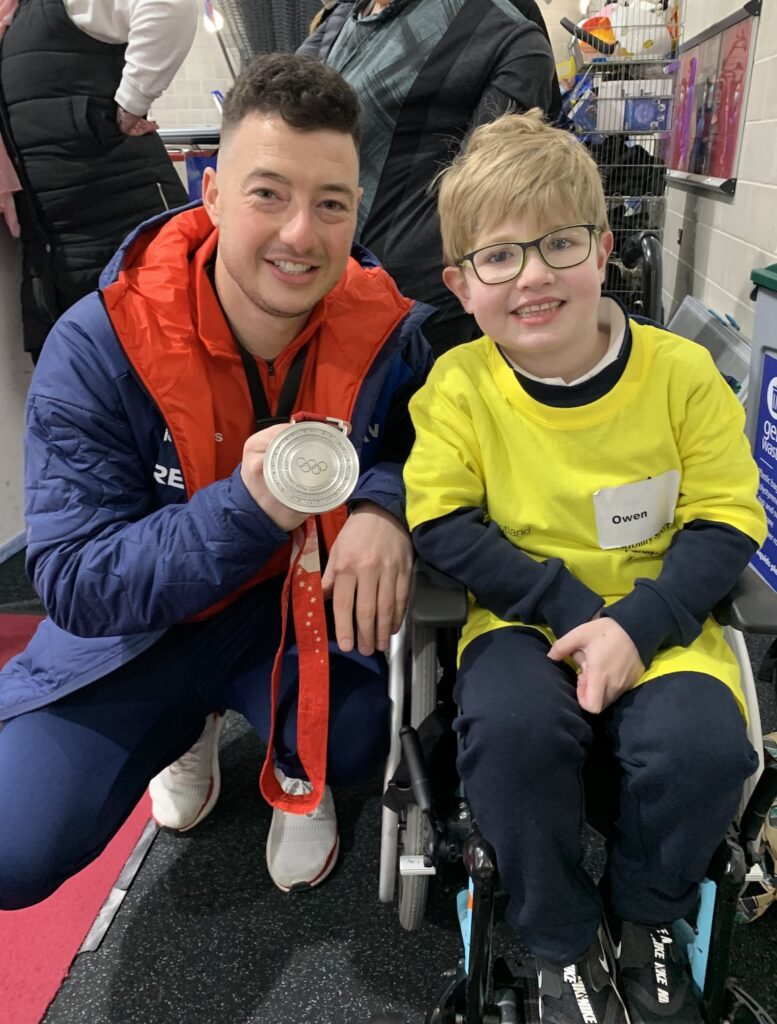 7-year-old Owen had begun to lose confidence after becoming more aware of his DMD and finding it difficult to compete with his classmates at school.
However, he recently took part in a Scottish Disability Sport (SDS) event which introduced him to lots of different sports he could play. He even got to meet Team GB Curling player, Hammy McMillan!
Owen said "PE is hard at school for me because I can't do the things my friends do and it makes me feel really sad and frustrated. It was fun to try different sports and I really like archery and curling. It was good to play against other children who have a disability like me because it was fairer and I had a chance to win.
My school have introduced Boccia, and they want to bring more inclusive sports into school so that I can play against my friends. I have lots of ideas of things I want to do more of, and I know that I CAN do things even though I have weak muscles."
Contact SDS for more information on getting involved in disability sport in Scotland
Jack, age 14, rugby coach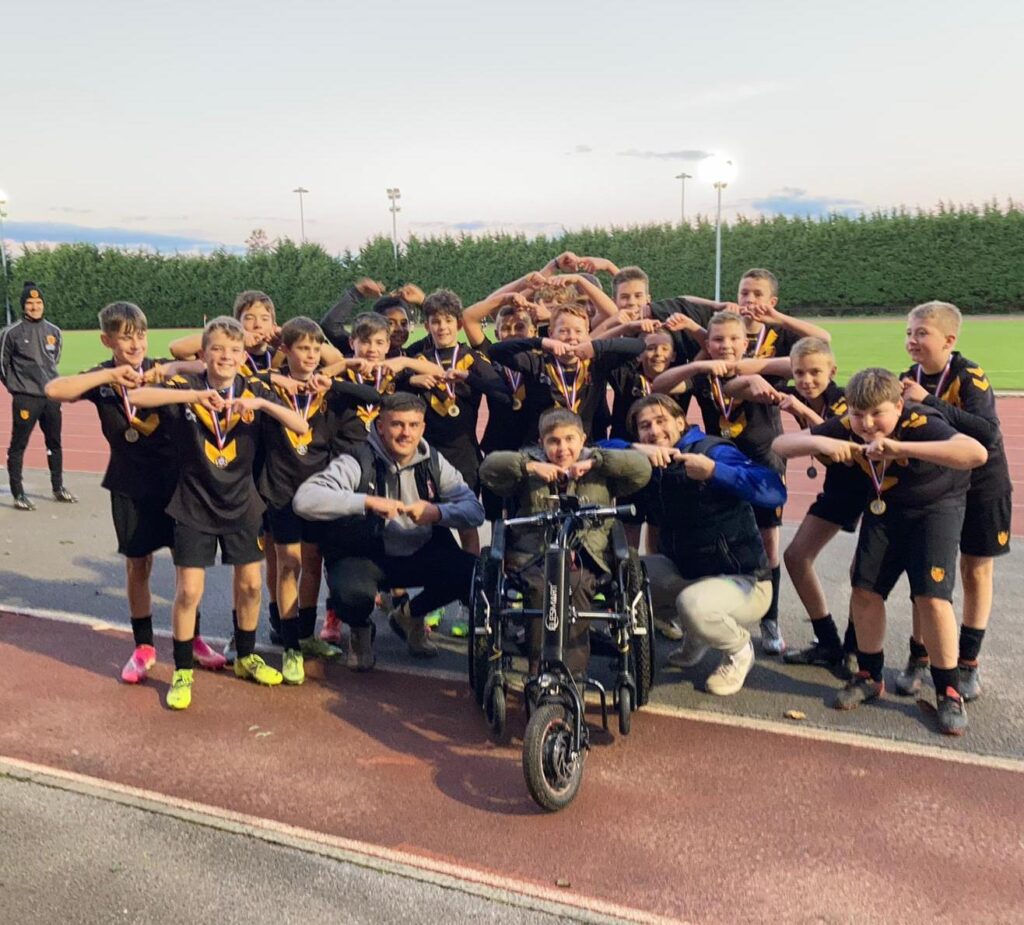 Coaching can be a great way for young people with DMD to get involved in a sport they love.
Jack, age 14, comes from a family of rugby players. His dad Andy is a former rugby league player and mum Alex is co-founder of Duchenne UK and founder of Joining Jack, a charity with strong support from the rugby community.
Playing rugby can be damaging to children with DMD's muscles. However, Jack shows his passion for the sport by coaching his local team. With Jack's coaching, the team recently won the Wigan and Leigh Champions cup!
"Being a coach has really helped Jack to develop leadership skills, as well as build his confidence and make new friends" Alex, Jack's mum
Philip Jonsson, Paralympic shooter
Swedish national Philip Jonsson is a Paralympic shooter who became the first athlete with DMD to win Gold at last year's Tokyo Paralympics.
"At age six I started playing football like a lot of my friends did, but the older I got, the harder it became for me. The illness sadly forced me to stop playing football, but instead I became responsible for the team's statistics. While I was doing that, I began to look for another sport that would suit me better. Then one day my father was reading in the newspaper that Mariestads SG had a shooting test day. I went there, tried it, and settled on shooting."
Paralympic sports have different classifications, which allow athletes with different ranges of ability to compete. Philip's classification, SH2, is designated to athletes with upper and/or lower limb muscle impairment who are able to use a shooting stand to support the rifle.
Other sports and activities people with DMD can try
These are just a few examples of what it's possible to achieve in sport with DMD, but there are many other activities and sports that can be suitable. You could check out opportunities in your local area in:
Remember that some activities can damage children with DMD's muscles and should be avoided – especially scooters, bouncy castles, trampolines and rugby.
For more guidance on exercise, sport and other hobbies with DMD, download our DMD Family Folder for Newly-diagnosed Families, or our DMD Family Folder for Adolescence and Adulthood.