Family and Friends Funds
Standing with Jack
Meet Jack!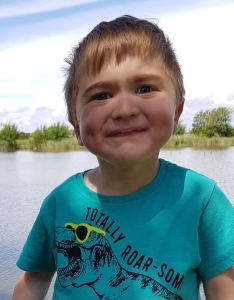 Jack is a funny, cheeky, determined, and extremely energetic young man with a zest for life and an inexhaustible passion for Lego!
Jack also has Duchenne muscular dystrophy.  He was diagnosed in Vancouver Children's Hospital in May 2016, shortly before his 5th birthday.  We were living in the small mountain town of Nelson in British Columbia, Canada, at the time, having emigrated in 2014 in the hope of a new adventure.
Faced with the emotional and physical challenges that we knew our new future held for Jack, and for us all, we took the decision to move back to the UK to be closer to family and friends again.
As much as we all miss Canada, it was absolutely the right decision.  We have been overwhelmed with the amount of help and support both from family and friends, and also from the various DMD and MD-focused charities. Duchenne UK in particular has been so important to us. 
As well as providing us with reliable and up-to-date information and hosting local events where we have been able to meet other DMD families, its main focus of investing heavily in medical research and trials to find treatments and a cure, has provided us with hope – and as a parent trying to come to terms with DMD, hope is essential. 
So, we want to help that cause as much as possible and we are sure others will too.  If you would like to donate to Duchenne UK, or to hold your own fundraiser on behalf of Jack and all the other boys with DMD, please consider doing this via our family fund, using the link below. We will support you in any way we can, and will be eternally grateful.
Best wishes,
Andrew, Rebecca, Kieran and Jack
(The Hargreaves family).